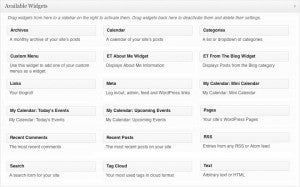 Widgets are features and functionality that can be added to the sidebar. There are some widgets that are controlled by plugins. Other widgets are native to WordPress.You can access the widget section in the admin by clicking Appearance > Widgets. As part of the template, there are a number of Widgets available.
By default, the sidebar and widgets only show up on inner pages and not the home page. Also, it will not show up if the a full page template is selected.
One of the most often used widgets is the Text Widget. This allows for HTML input such as links and pictures to be easily added to the side bar.
Make sure all of your div's are closed in a Text Widget. It will wreak havok on the site layout if left open. When in doubt, try to not use div's at all.
A few image examples of other widgets are:
A plugin, called Widget Logic, is used to control the position of widgets. Read about this at wordpress.org/extend/plugins/widget-logic. You can control where a widget shows up on a page using conditional tags.